Turkish Education Association torch Located in Corlu TED College of Turkey's most established companies in the field of education, pre-school education in the years 2021-2022, is proud to begin training at primary and secondary levels.
TED Çorlu College, a K12 school, offers privileged education programs for all age groups, especially in foreign languages, science, technology, mathematics and arts, to raise generations equipped with 21st century skills with its strong academic staff.
At TED Çorlu College, individual differences are taken into account, student-centered, based on national values, having a universal perspective, believing in the necessity of foreign language education, offering environments that support academic, social and physical development, and integrating international practices with TED-specific programs. A dynamic and innovative education and training approach is essential.
At TED Çorlu College, with life-based and student-centered education opportunities, adhering to the values of the Republic and Atatürk's principles, assimilating national values and developing world citizenship awareness, having ethical values, scientific thinking, high awareness and solution to country and world problems, foreign language Knowing and using it effectively in life, adopting research and lifelong learning as a principle, having developed productive, creative and entrepreneurial skills, possessing the requirements and competencies of the technology age, having intellectual accumulation in the fields of culture, arts and sports, having environmental and social responsibility awareness, respectful of differences Individuals who can show empathy and have strong communication skills are raised.
It is possible to summarize the main points that distinguish TED Çorlu College from other schools in the region as follows: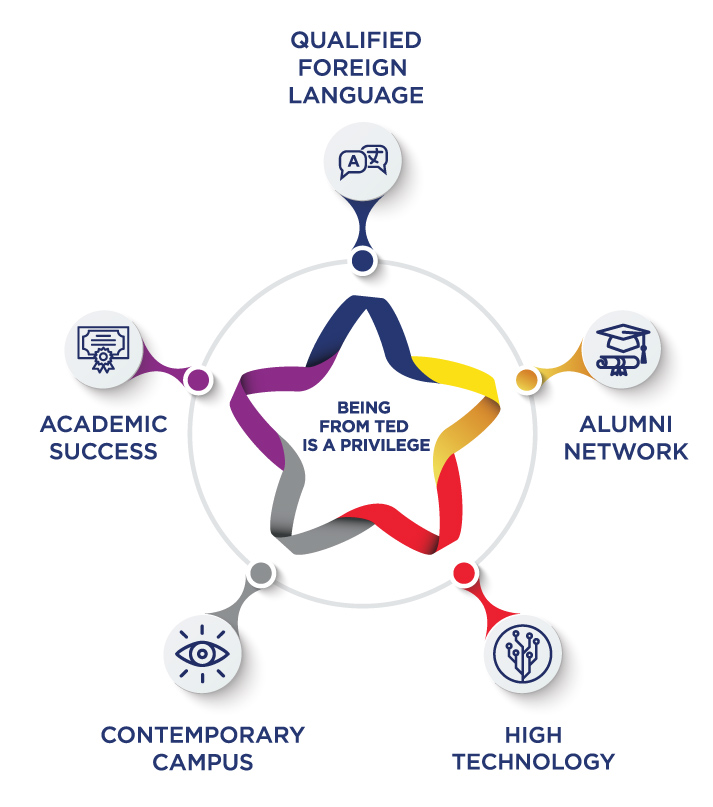 • Nearly 4 thousand teaching staff and 32 thousand students spread throughout Turkey in K12 schools, universities, think-tanks and deep-rooted in the education field with other structures, is a large and an unprecedented 41 representatives of the community.
• It has an education and training understanding that makes a difference, where education and training programs are developed by TED, teacher recruitment is carried out by TED, teachers are subject to continuous professional and personal training.
• It is a school where your child speaks a foreign language like his / her mother tongue, achieves academic success, has a holistic formation including socio-cultural and sports fields, and can use its wide alumni network when starting life.
• It is a campus beyond the age with a closed area of 15,538 square meters on 11 decares of land, where 1,000 students from pre-school education to senior high school will study.
• It makes a difference with its multi-purpose gym, indoor pool, fitness center, spinning / yoga / pilates / ballet studios, basketball / volleyball / handball courts in open areas and sports areas such as tennis courts and climbing walls.
• A 500-seat conference hall that can host national and international meetings such as MUN, music rooms designed to play instruments such as piano, violin, drums, orchestra room, cinema hall, art workshops suitable for painting and ceramics, experimental kitchen that allows to experience world cuisine. Provides versatility with venues hosting socio cultural activities such as school radio, chess / coding / mechatronics / robotics / lego and youtuber clubs.
• There are ecological hobby gardens and green areas that allow children to grow up as nature-friendly individuals.
• With its state-of-the-art teaching system and smart board applications, whether it be hybrid or online education, it offers students an uninterrupted, effective and efficient education that facilitates participation.